Transportation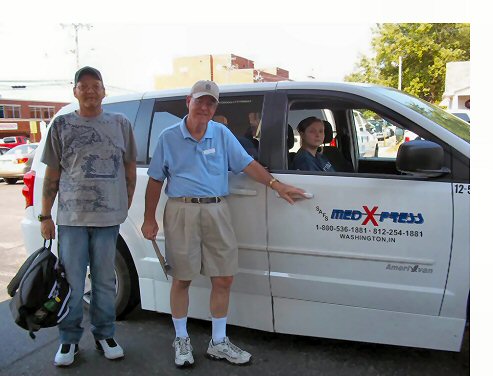 Med X-Press - Quality care by qualified drivers who go the extra mile.  Medical transportation is available for Medicaid recipients of any age and private pay.  Multi-passenger rates are also available.  Professionally trained drivers transport to medical appointments anywhere in Indiana. Wheelchair vans and cars are available.  Please call 48 hours in advance.  Same day service will be accommodated as driver schedules allow. Med X-Press is available in Daviess, Knox, Greene, Martin and Pike counties.
Our Drivers:
Are licensed by the State of Indiana with a Public Passenger Chauffeurs License
Are certified by in Adult CPR and First Aid
Pass a state required physical
Are trained by RTAP in Defensive Driving and Emergency Procedures
Carry cell phones for office contact and emergencies
Are polite and courteous
Please Note:
Med X-Press does not operate on the following days:
New Year's Day
Thanksgiving Day
Christmas Day
Memorial Day*
4th of July*
Labor Day*

*Dialysis runs only
TITLE VI Notice to the Public

Senior and Family Services, Inc. operates its programs and services without regard to race, color, and national origin in accordance with Title VI of the Civil Rights Act.  Any person who believes she or he has been aggrieved by any unlawful discriminatory practice under Title VI may file a complaint with Senior and Family Services.
For more information on the SAFS' civil rights program, and the procedures to file a complaint, contact 812-254-1881, 1-800-536-1881, email jcecil.safsinc@sbcglobal.net, or visit our administrative office at 211 E. Main Street, Washington, IN 47501.
A complainant may file a complaint directly with the Federal Transit Administration by filing a complaint with the Office of Civil Rights, Attention:  Title VI Program Coordinator, East Building, 5th Floor-TCR, 1200 New Jersey Ave., SE Washington, DC 20590
If information is needed in another language contact 812-254-1881.
Si se necesita informacion en otro idioma de contacto, 812-254-1881.
City Bus Ticket Subsidy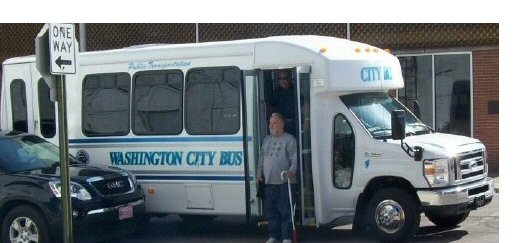 Persons age 60 and over may pick up city bus tickets at the Washington Senior Center.   These tickets are free and allow passengers to ride the city bus for only 25 cents.  This program through SAFS is in partnership with Generations.